5 tags
5 tags
5 tags
Blue is the new black
Eyes: ELF eyelid primer Penshoppe kohl black pencil Naked 1: buck Dollface 88 e/s: cream Light and Dark Blue: Ever Bilena 24 Advance Eyeshadow Nichido Liquid Eyeliner Nichido Concealer Pencil Face: ELF Maximum Coverage in Sand Ben Nye Luxury Powder Dollface 88 e/s as Bronzer Etude House Highlighter Lips: Etude House Lip Liner Revlon Strawberry Shortcake Tutorial:  ...
8 tags
8 tags
8 tags
This is it pancit!!!!
FRIENDS! Natanggap ako sa Our lady of Fatima College of Medicine! NKKLK! Gusto ko lang i-share sa inyo yung kasiyahan ko! haha besides, i've been thinking kung mag stop ako sa pag gawa ng video once na mag-start na classes. pero, sabi ni brother dear "WAG!".. So i've decided na isasama ko kayo sa magiging bago kong place. Sana nandyan pa rin kayo kahit minsanan na lang...
12 tags
7 tags
7 tags
MadHouseMNL: Aisa Ipac "Inspired" Make-up Tutorial
Face: MAC NC35 Ben Nye Banana Powder Elf Blush/Bronzer Duo Eyes: In2it Brown eyeliner Naked Palette ( Smog, Dark Horse, Virgin, Naked, Buck) 88 Dollface (White or Cream color) Snoe Eyeliner pen In2it Black eyeliner Lips: Ever Bilena Matte Lipstick in Mauvey Fashion 21 Aqualicious in Warm Salon How-to: http://www.youtube.com/watch?v=6ip40QNqAd0 Peg: 
Britney's Scream and Shout look
Face: Ben Nye Concealer Wheel in SK-1 E.l.f. Powder e.l.f Bronzer (beauty book) Eyes: Naked 1 palette Snoe liquid liner Fashion 21 white eyeliner Nichido pencil concealer Divisoria false lashes Lips: Revlon lip butter (strawberry shortcake) Ben nye concealer wheel sk-1 Brushes: Black handle - e.l.f. Red handles - dollface  Yellow handles - bobbi brown  ...
6 tags
Random Blog Post
I have always been skeptical about relationship. I believe that love do exist but for a very short amount of time. I do not believe people saying, i will love you "forever or 'till the day i die"; what i hear is, "oh, let's be love-y love-y, and make love sooon!". 'Cause from what i can see, there's a 99.99% that you're partner will cheat. So...
10 tags
Christmas Wish list 2012
Here's my top 5 wishes. First and foremost, alam ko di ako katalinuhan pero i would like to enter a good or great (if my NMAT score permits) medical school. T_T Gusto ko kasi na nakikita sa mga mata ng magulang ko yung tuwa na may anak silang "posibleng" maging doktor. At gusto ko na maging masaya sila… dahil halos ilang taon na rin akong naging pasaway. haha I think,...
8 tags
"Hindi dahil may makeup kit kang bongga or kikay kang girl makeup artist ka na...."
– Ara Fernando
4 tags
2 tags
3 tags
THE SEARCH FOR THE NEXT MR. AND MS. MULTIMEDIA...
Photography by: Rainer Montevirgen Assistant Photographer: Meg Dacumos Clothes by: Joseph Montelibano Styling by: Roye Serrano Footwear by: DAS Shoes and Flying Dutchman Make-up: Katrine Acosta VOTE FOR HER!! i love this little girl! She's so bubbly and friendly! Go Beyonce! :)  Vote for Kirstin Vote for Alyssa Vote for Anjel
4 tags
MadHouseMNL Oct '12: The Quin
http://issuu.com/madhousemnl/docs/oct2012/112
4 tags
Day 2 of Make-up Class: Facial shape correction...
thederangednix asked: Oh my gosh ikaw pala kasama ko as make up artist sa Mr. and Ms. MAS photoshoot nung Sunday! Hahaha! Nagyon ko lang na realize na finofollow pala kita dito. :D
3 tags
Day 1 of Make-up Class: Intro and application of...
Please excuse my haggard fez! NKKLK! :))
2 tags
Day 9: Planning
A month from now, i'm gonna turn 20!! So, i've decided to have a bonggang party! Initially, my plan was to have steaks, assorted cheese, and red wine(i blame cougar town for my red wine curiosity. haha)! But then it hits me, i wanted to have a barbecue party (U.S. Style! if that even makes sense! HAHAHA)! source: here source: here source: here and oh, Erwan's...
Au Naturel Treatments
(c) La belle
4 tags
Day 5: Pintada
Advance Happy Halloween! :)
3 tags
Day 3: First Model
I was supposed to do a makeup tutorial today! But then my cold/allergy is driving me crazy, also i sounded horrible due to my clogged nose! Anyway, while browsing thru my tumblr newsfeed (u get what i'm sayin'? haha) i saw ana victorino's post regarding her 2nd anniversary as a makeup-artist! Then I ask myself, "when was the first time i ever did somebody's...
3 tags
Day 2: Che-Chm Night Photoshoot '12-'13
Jomicah is one of the candidates for the upcoming che-chm night (happening this december!) and oh, btw.. i did her make-up! HAHA  So today was a successful photoshoot for the tarps! I'm really excited to see the official photos :) Theme: Bollywood
1 tag
#MyOctoberWish
To be more active here and on my youtube channel.. Therefore, I hereby, solemnly swear that if I have not posted anything on this blog, then i should be uploading something (e.g., makeup tutorial, Vlog) on my youtube channel! This will go on for the rest of the month.. Day 1: I am practicing for tomorrow's Che-Chm Night Photoshoot! Hello Che-Chm Candidates ('12-'13) of...
6 tags
Official Photos: Joseph Aloysius Collection
c/o Macky Domingo :) Time to think about being PROM QUEEN Bee… For appointments (0927)774-2612 / jaloysiusny@yahoo.com ILOILO city appointment/consultation dates: September 18-23, 2012 Model: Angelie Twigg Designer: Joseph Aloysius  Phothrapher: Macky Domingo  Stylist: Firas Abboud  Make Up Artist: Katrine Acosta
6 tags
PHOTODUMP: Behind-The-Scenes of Joseph Aloysius...
Thank you Direk Jo-Al for this wonderful opportunity! I will forever be grateful! <3 Last september 6, 2012 we had a shoot for Direk Jo-Al's upcoming collection :) Direk Jo-Al in action: The master and his masterpiece :) Firas - assistant stylist  Yours truly :D DJ Kim : Kim and Fifi :) Macky - Photographer This is what we saw when we came back...
5 tags
Kim Jones Makeup Tutorial
Face: Nyx HD in 01 Mac NC35 Cinema secrets #3 Smashbox HD powder + 4u2 BB powder no. 02 Penshoppe blush Naked palette Eyes: Elf Eyelid Primer Fashion 21 white eyeliner 88 Color palette Naked palette Nichido liquid eyeliner in2it waterproof eyeliner Fanny Serrano eyelash curler Maybelline super curl mascara Lips: Ever Bilena in Skin Fashion 21 in warm salmon L.A. Colors clear...
2 tags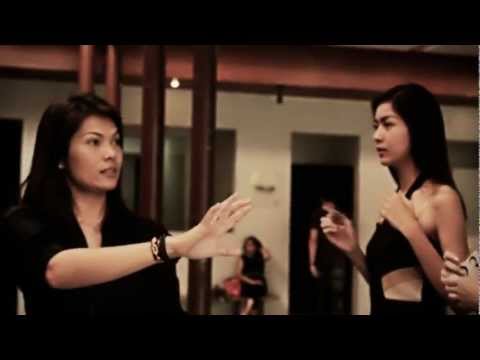 3 tags
August 23, 2012
To all my fellow mapuans who graduated today.. Here's to another chapter in our lives! Viva Mapua :)
Spend vs. Save
I have been eyeing this Givenchy Antigona Bag for months now! This costs around Php 50,000-80,000.  But then as a young individual living within the budget that is given to her by her parents. Purchasing this bag is impossible! Luckily, I saw this bag from Charles & Keith Roughly around Php 3,500+ It has the same structure yet different handles and placement of the logo. Both bags are...
8 tags
Julia Montes "Inspired" Makeup
Face: Tony Moly Concealer in #1 4u2 BB Powder #02 Dior Croc (Bronzer) Nichido Trio Blush (Peach) Eyes: ELF Eyelid Primer Ever Bilena Advance 24's eyeshadow 72 color e/s palette Nichido Liquid Eyeliner Lips: Ever Bilena Matte Lipstick in Mauvey Bella il Fiore kit Ever Bilena Advance 24's eyeshadow (Gold) How-to: here
Lovi Poe Inspired Makeup Tutorial
Lovie Poe is either HOT or Seductive! Nakakaloka! Siya na talaga! BOW!  Ginaya ko sya! HAHAHAH! Face: Tony Moly Concealer in #1 4u2 BB Powder #02 Dior Croc (Bronzer) Eyes: ELF Eyelid Primer Ever Bilena Advance 24's eyeshadow 72 color e/s palette Nichido Liquid Eyeliner Lips: Bella il Fiore kit How-to: http://youtu.be/CDKNtfMRWNY
4 tags
Mapua View book 2012-2013
Remember my 9spoons blog post? the part wherein I told you guys about a "shoot". hehe it's finally out!!  The most creative table of contents i have seen!! :) AKO NA!! hihi! kinikilig ako! choz! Thank you sir Erich Vea :) To see the whole view book click here 
5 tags
Wide Awake "Inspired" Makeup
Pa-cute look: (right) Face: Nyx Stay matte but not flat in Natural 4u2 Lovelight BB Powder in No. 02 DiorSkin Croco Bronzer Penshoppe Color Hydradiance cheek Blush in Icon Eyes: 72 eyeshadow palette Nichido Liquid eyeliner Maybelline Hypercurl Volum Express Penshoppe Color Hydradiance Eye Pencil in Diva Lips: Bella il fiore kit Fiesty look: (Left) Face: Nyx Stay matte but not flat...
5 tags
Leighton Meester "Inspired" Penshoppe Ad
Products Used: Face: Revlon Photo Ready 4u2 lovelight BB Powder Penshoppe Blush in Icon Dior Bronzer Eyes: Penshoppe Eyeshadow Quad in Innocent Penshoppe Eyeliner in Diva Maybelline Hyper Curl Mascara Matte white/cream eyeshadow Lips: MAC chatterbox How-to: http://www.youtube.com/watch?v=4-f98D-Eb0Y&feature=g-upl
5 tags
PMAP Casting 2012
June 30, 2012 - PMAP held an open casting for all interested models at the Arts in the City, The Fort! It was my first time to see an official and LIVE! casting. So, I am really excited! I was with my co-blogger yan-yan, ruffo, and fifi (not in photo) First, i would like to say that I was under this impression that models are prima donna's and they can be quite intimidating but PMAP...
4 tags
Kiehl's Midnight Recovery Eye UPDATE
Last June 22, 2012 I bought the Midnight Recovery Eye from Kiehl's MOA. Erika (the attending physician/derma *i guess*) gave me a lot of free stuffs with my purchase. So far, i have been using and LOVING the Ultra Facial Cleanser besides the eye cream.  SRP: Php 2,250.00 (not sure). The eye cream was light and is easily absorbed by the skin without leaving a greasy feeling after. This...
Viva Mapua Cardinals: Mga Uri ng Professor sa... →
vivamapuacardinals: by thediaryofayoungman Alam mo na ba ang mga uri ng professor sa Mapua? Dito nakalista ang lahat ng uri ng professor sa Mapua. Gabay na rin ito para sa susunod na sangkapat. REPORT ADDICT - Sila ang mga professor na inaasa ang pagtuturo sa klase. Mahilig sila sa reporting. Ididivide niya ang…